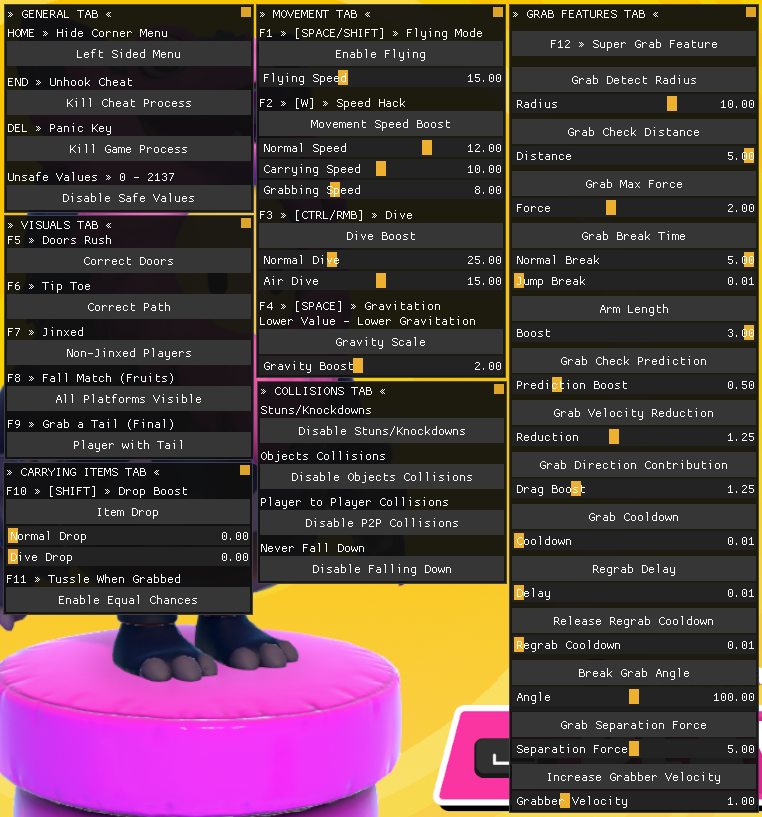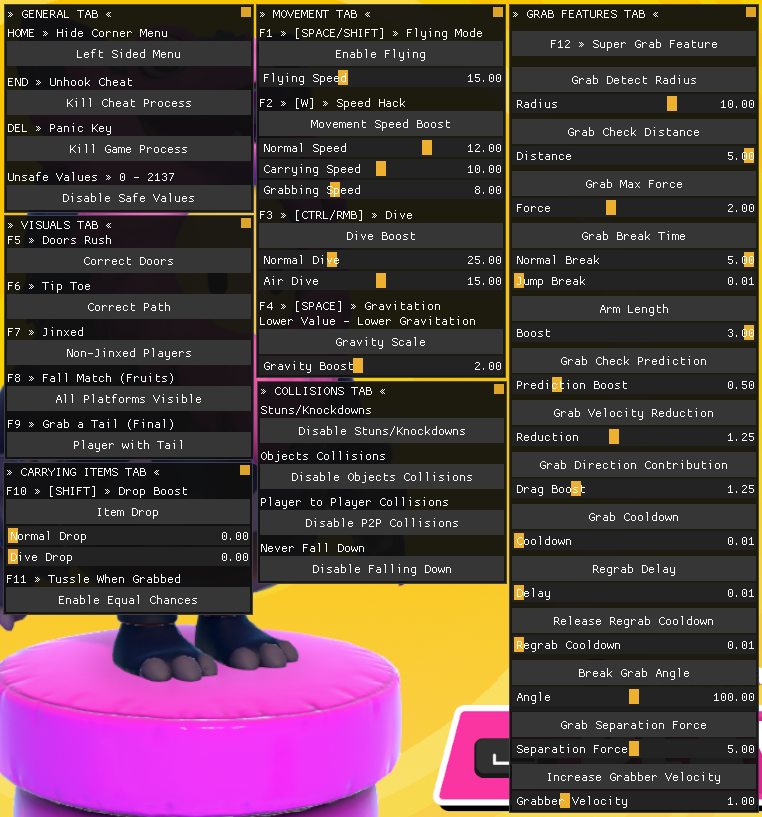 A great multi-functional cheat on the popular online game Fall Guys. Cheat on FG is free and you can download it from our site. Dominate the game servers with this hack, a large selection of functions and management through a convenient menu. If you want a large number of features in the game or want to occupy only the top positions, then use this cheat on Fall Guys.
- Start steam and fall guys
- Inject cheat to fallguys_client.exe
- Press INSERT to open cheat menu
- Do not close console window! 
GENERAL:
HOME » Hide Corner Text
DELETE » Panic Key (instantly closes game)
END » Unhook Cheat (disable cheat, keep game alive)
Disable Safe Cheat Values
VISUALS:
F5 » Real Doors (Door Rush)
F6 » Real Path (Tip Toe)
F7 » Non-Jinxed Players
F8 » All Platforms Visible (Fall Match / Fruits Match)
F9 » Player with Tail (Final)
MOVEMENT:
F1 » Fly Mode:
Flying Speed
F2 » Speed Hack:
Movement Speed (Default: 9.5)
Movement Speed when Carrying Item (Default: 8)
Movement Speed when Grabbing (Default: 5)
F3 » Dive Boost:
Normal Dive Boost (Default: 16.5)
Air Dive Boost (Default: 7)
F4 » Gravitation:
Gravity Scale (Default: 1.5)
COLLISIONS:
Disable Stuns/Knockdowns
Disable Object Collisions
Disable Player to Player Collisions
Disable Falling Down
CARRYING GRAB ITEMS:
F10 » Item Drop Force:
Normal Item Drop (Default: 50)
Dive Item Drop (Default: 90)
F11 » Equal Tussle Chances When Grabbed
GRABS:
F12 » Super Grab Feature
Grab Detect Radius (Default: 6)
Grab Check Distance (Default: 2)
Grab Max Force (Default: 0.6)
Grab Break Time:
Normal Time (Default: 1.2)
Jump Time (Default: 0.01)
Arm Length (Default: 1)
Grab Check Prediction Base (Default: 0.1)
Grab Immediate Velocity Reduction (Default: 0.5)
Grab Cooldown (Default: 0.5)
Regrab Delay (Default: 2)
Release Regrab Cooldown (Default: 1)
Break Grab Angle (Default: 75)
Grab Separation Force (Default: 7)
Grabber Velocity (Default: 0.1)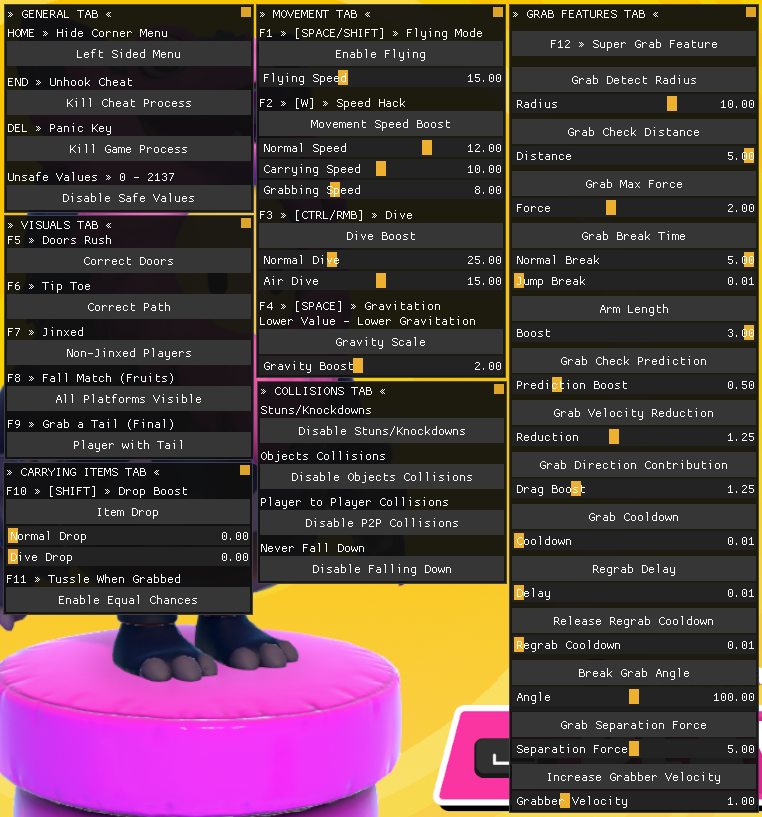 Download Fall Guys Internal Cheat
Subscribe to the news Fall Guys Internal Cheat
If the news changes, you will receive an E-mail notification.
The minimum comment length is 50 characters. Comments are moderated. Use only English.